KCIC's asbestos litigation reports pull the curtain back on the tort system — what's being filed, where, and by whom.
Despite how long and large asbestos litigation has loomed, the total population of asbestos personal injury claims has been an enigma … until KCIC started publishing its snapshots of the state of the industry.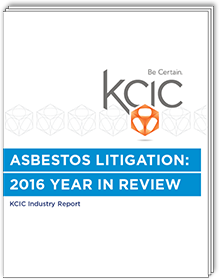 With expanded data and analysis, KCIC's latest report provides an even more comprehensive view of asbestos litigation.
DIVE INTO


THE DATA
YES, I would like to download KCIC's "Asbestos Litigation: 2016 Year in Review" report.